Every website needs the "about us" page but typically it is the hardest to write.  At least for someone like me.  I prefer to stay under the radar and just share.  So here it goes –
What I enjoy in life – reading, eating, create happiness, relaxing, and generally enjoying life.  Sounds a little like Eat, Pray, Love…. right? and yep I liked that book!
I am a small town girl from Montana who loves to meet people, listen to their stories and taste almost any kind of food.  Most of my life was spent on St. Croix, US Virgin Islands, an island in the beautiful Caribbean Sea.
This blog was created to keep me writing!  Telling stories about experiences, people, places and things, is something I love to do – just puts a smile on my face.  Sometimes I speak the story and sometimes I write them down.  My fingers move slower than my thoughts, so grammar and spelling friends…please feel free to comment.
For now, my picture is our little (now 14 year old) dog, that brings joy and happiness to all that meet her.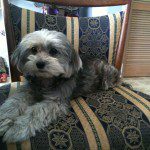 If you want to learn more about me …follow this blog.