This recipe ROCKS!  These onions taste good on everything!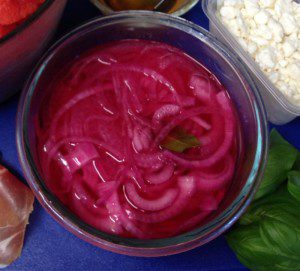 Ingredients
1 Red Onion
1 Clove of Garlic
1 Bay Leaf
1 tsp of Peppercorns
1 tsp of Coriander Seeds
1-1/2 tsp of Salt
1 T Brown Sugar
¾ cup of Apple Cider Vinegar
¼ cup of Boiling Water
Instructions
Get your tea kettle or pot boiling with MORE than a ¼ cup of water.
Thinly slice your onions. Chop the garlic clove in half.
Measure out the peppercorn, coriander, salt, brown sugar, vinegar and add ¼ c of boiling water to the mixture. I used a measuring cup.
Put the onions into a colander over the sink and pour the balance of the boiling water over them to "blanch" them. This helps them pickle faster.
Next put the onions in a glass container (like a Mason jar) put a half of the garlic halfway through. Once all the onion is in, pour the vinegar mixture over the top, add the bay leaf and cover tightly. Put in the refrigerator for at least 30 minutes. I did mine the night before. They say the onions last up to 3 weeks but mine didn't even last one day as they were eaten with the salad and without the salad they were so good!!
http://www.allover-the-place.com/pickled-red-onion-recipe/
Hey, if you like this recipe - please include a link to my blog when you re-blog it!