I met Martha a year or so ago at a rug hooking "hook in" put on by the North Florida Rug Hooking Guild (NFRHG) at Coquina Crossing in St. Augustine, Florida.  She arrived with Karen (ShadyHillRugHooking.com) whom I had met the year before plus shared a few emails with.
Martha had moved full time to her winter home in the Port Charlotte area of Florida from Maine and made her way up to Ocala aka Florida Horse Country in March of 2014. Well, Martha is a hoot and extremely kind person. She has a special talent for finishing rugs that maybe you don't want to, are having problems with or just plain don't want to do the binding….fancy or otherwise.  Her business is Get It Done Hooked Rugs Finishing, which says it all!  She started having monthly "hook ins" at the rec room in her park.  I met some fun talented rug hookers, knitters, punch needle, fiber art artist/craftspeople (whatever you want to call us!).
Well, Martha missed her kids and grandkids in Maine so they made the decision to head back up to the north country.  She invited a few of us to her place for a small hook in/lunch.  It started as a joke when she said she was going to make Peanut Butter cookies, another said Pasta Salad and yet another said something from Publix.  So that was how the "P" party began.
Hmmmm, what would I take to the "P" party…….we would drive by a truck on the side of the road selling fresh watermelons for $2 and boy did I want one, however, my husband doesn't eat much watermelon anymore (he used to be able to eat 1 at a sitting but that is another story) so what would I do with a whole watermelon.  I perused the internet and Pinterest and found 3 recipes that sounded good but were just a little bit different.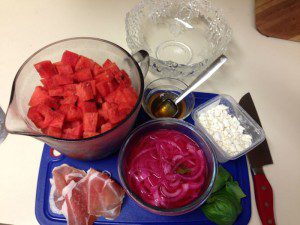 So I combined the three and came up with my own Pickled Purple Onion Prosciutto Watermelon Feta Salad!  The general consensus of this recipe was YUM!  We will miss Martha, but thanks to her for inspiring me to make this dish.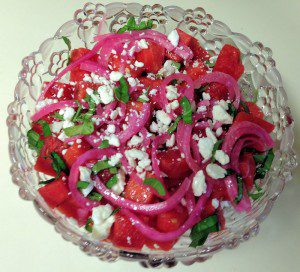 Ingredients
3 (more or less) cups of cubed watermelon
Pickled Purple Onions (see recipe below)
Feta Cheese to taste
6 or more leaves of Fresh Basil
4 or more slices of Prosciutto – sautéed to make it crispy, think bacon
3 tablespoons of Honey (shop local!)
2 tablespoons of White Wine Vinegar (or a light vinegar of your choice)
1 tablespoon of Canola Oil (or an oil with a neutral flavor)
Salt and Pepper to taste
Instructions
This would look lovely on a serving tray, mine was in a bowl as I need to transport it so this is how I "mixed" it.
Put some of the watermelon in a bowl and layer the onions, feta and basil on it, then put more watermelon in the bowl with more onions, feta and basil over it.
Mix together the honey, vinegar and oil and drizzle it over the bowl of goodness. Right before serving, toss/mix everything in the bowl together. You can then either add the Prosciutto to the bowl or have it as an add on for your guests.
I think the dressing could have used a bit of citrus so next time I would squeeze a bit of lime or lemon in it.
If you use the tray for your serving vessel, you wouldn't need to layer the salad and it would be easy to evenly sprinkle the Prosciutto over the salad.
http://www.allover-the-place.com/wool-friends-food/
Hey, if you like this recipe - please include a link to my blog when you re-blog it!